Indian Mine Planners & Consultants (IMPCON) was established with the prime objective of guiding for total mining solution in Mine Planning of the Mine Entrepreneurs of  Government, Public Sectors and Private Sector bodies engaged in the field of Coal mining, Metal and non Metal mining. The services are provided  by the energetic and highly experienced mine planners of today's context and guided by the dynamic, pragmatic, qualified and experienced advisors in the field mining with an aim to perform – safety, productivity and sustainable mining with due regard to quality  and environment .
IMPCON IS AN ISO 9001 COMPANY & AN ACCREDATED ENVIRONMENT CONSULTANT ORGANISATION OF QCI -NABET
WE ARE PROUD TO ANNOUNCE THAT IMPCON HAS BEEN APPOINTED BY M/S AMBUJA CEMENT LTD (ACL) AS INDEPENDENT ENGINEER BEING THE SUCCESSFUL BIDDER FOR THEIR NEW MINING PROJECT (BOTH OPENCAST AND UNDERGROUND) IN JULY, 2019. PRIOR TO THIS IMPCON HAD ALSO SUCCESSFULLY DONE DUE DILIGENCE, MINE CLOSURE PLAN AND DETAILED DESIGN, WHICH INCLUDES SEVERAL INFRASTRUCTURES E.G, WORKSHOP, CHP ETC. OF THIS PROJECT.
We are proud to be empanelled as Technical Consultants of Coal India Limited, the world's largest coal producing company in the world.
THIS IS A REMARKABLE ACHIEVEMENT FOR IMPCON, SINCE, As per guideline of Ministry of Coal, Govt. of India for working of Coal Project by Mine Developer cum Operator, the General Financial Rules, 2005 and the Manual of Policies and Procedure for Employment of Consultants issued by the Department of Expenditure, Ministry of Finance constitute the framework that governs the selection and employment of consultants, it would be essential to engage INDEPENDENT ENGINEER (IE), as technical consultant broadly for successful implementation of coal project with due safety as per approved project report, maintaining standards & norms and also maintaining shape and boundary of the project as per approved plans & designs. IMPCON HAS SET PATH FOR SUCH TYPE OF JOB, WHICH IS YET A NEW CONCEPT IN MINING IN INDIA.


We are proud to be empanelled as Technical Consultants of Coal India Limited, the world's largest coal producing company in the world.
IMPCON caters to the need of existing as well as new Mining Entrepreneurs for preparing the geological reports, mining feasibility reports, mining plan, detailed mine design, environment impacts assessment (EIA) reports etc. A group of advisors from various disciplines with over 40 years of experience from organizations like Geological Survey of India, Various subsidiaries of Coal India Limited (CIL) including Central Mine Planning & Design Institute Limited (CMPDIL), Steel Authority of India Limited (SAIL), Indian School of Mines etc.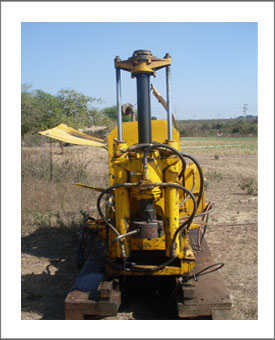 IMPCON also delivers advisory services in all the aspects of geological exploration, geo-technical services, hydro-geology, mine planning & detailed design, electrical installations and maintenance, possible improvement area of mechanical performance of the high capacity mining machineries, civil and infrastructural job planning, choice of equipment for mining, manpower planning and finally total economics for project viability. 
IMPCON started its activities from the beginning of year 2007 (Formerly  as IMPC) and has rendered services to prepare, detailed exploration planning, topographical survey, geological modelling with Minex/Surpac softwares, hydro-geological studies, conceptual & detailed Mine planning, detailed mine design, detailed feasibility reports and Project Report, due diligent reports of Captive coal blocks of major coalfields of India. In addition, to above, IMPCON has rendered services towards, geological modelling and feasibility reports of large coal blocks in Mozambique and Nigeria. In addition to above, many value added services towards mass production technology and advance technology for long distant coal transport, IPCC model and high angle conveyor system design are being innovated by a team of experts.
MISSION & VISSION OF IMPCON
* Realistic approach of earth resource planning with due regard to safety, environment, quality, optimistic productivity with advanced technology and viable economics.
* Improvement of mine logistics and human life for worthy living
* Constant Research, Development and Innovative Ideas for Re-organisation and Salvaging of difficult Mining Areas.
OBJECTIVE OF IMPCON
Total Customer Satisfaction.
Total Commitment to Precision, Factual Statements and Qualitative, Analytical performances.
Pragmatic approach and user friendly solution of the practices.
Safety, viability by gainful utilization of man and equipment.
Impart Quality services from project planning to actual implementation.
Customers support during actual implementation of Project.
Augment productivity and profitability by Innovation and Research.
Fulfilling the Commitment without Sacrificing Quality and Safety.
Interaction with customer for obtaining all the Statutory Clearances.
To achieve exponential growth in the mining sector with Scientific Development of Mineral Resources of the Country.
To work as Independent Engineer and to associate with Mine Owner & Mine Developer & Operator during Mine Development and Operation Stage.